Save $25 On The Best Local Lawn Care In Griffin
Lawn Care in Griffin, GA
Everyone deserves a beautiful lawn, but not everyone has the time to make it happen. That's where our lawn care in Griffin comes in! We offer services throughout the year to fertilize your lawn, control weeds, and stop fungus from taking over your grass. When you sign up for our Premiere Lawn Care Program, you'll receive $25 off!
Family-Friendly Treatments
Your lawn is a great place for your loved ones to gather, celebrate, and play. Make sure it's safe with our family-friendly lawn care in Griffin! We use products that are effective but still safe to use around curious pets and kids. If that wasn't good enough, we also offer guaranteed results!
When you choose our lawn services, you'll receive:
Strategic fertilization to promote strong growth and vibrant color.
Post-emergent weed control to eliminate crabgrass and broadleaf weeds.
Pre-emergent treatments to stop unwanted plants before they germinate.
Lawn disease prevention to stop fungus from damaging your grass.
Year-round care to ensure your lawn's needs are met, no matter the season.
Great Lawn Care Without a Contract
Everyone's needs are different, which is why we let you choose the services you want. With Roots & Turf Ornamental, you'll never be roped into an unnecessary contract. Whether you sign up for a comprehensive package or need occasional help with lawn care in Griffin, we've got you covered!
Image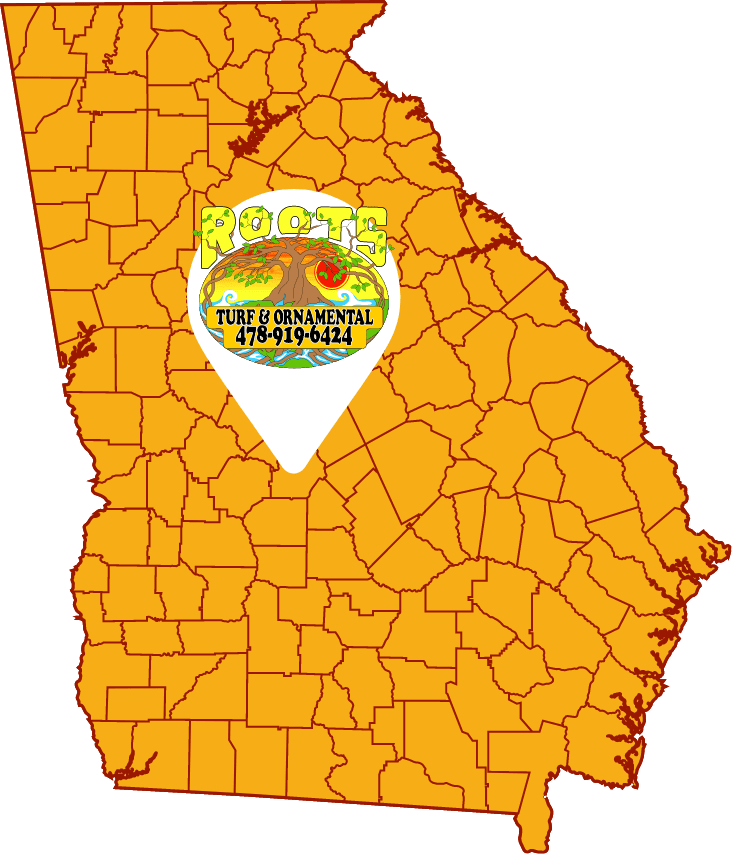 Lawn Aeration in Griffin, GA
Over time your soil naturally compacts and a layer of thatch accumulates above the ground. Both work together to make it more difficult for oxygen, water, and nutrients to reach the roots of your grass. During lawn aeration, experienced technicians at Roots Turf and Ornamental use a stream of high-pressure liquid to create tiny holes in the soil that loosen it up and allow water and fertilizer to be better absorbed by the ground.
The benefits of liquid aeration in Griffin include:
Longer lasting effects over traditional core aeration.
The ability to aerate your entire lawn without worrying about irrigation heads, utility lines, or electric dog fences.
Healthier grass, resulting in increased drought and disease resistance.
Decreased water pooling and runoff.
Thicker and more even grass with a stronger root system.
Tree and Shrub Care in Griffin, GA
At Roots Turf & Ornamental, we understand that your ornamentals aren't just decoration. They deserve just as much detailed care as the rest of your lawn to stay at their best. Our shrub & tree experts have the up-to-date knowledge and tools to maintain the overall health of these valuable plants.
Our comprehensive tree and shrub care in Griffin includes:
Inspecting and diagnosing any existing issues.
Creating a customized treatment plan according to our assessment.
Dormant oil application for family-safe pest prevention.
Disease treatment for multiple mildew and fungus problems.
Fertilization that promotes root health and foliage growth.
Pest defense from invaders such as mites, caterpillars, and aphids.
Mosquito Control in Griffin, GA
Mosquitos in Griffin are not wanted by anyone wanting to enjoy the outdoors during a nice day. These pests deliver annoying, itchy bites, and are known to transmit a variety of dangerous diseases. Our team at Roots Turf and Ornamental works to get rid of these pests entirely by providing recurring treatments that target mosquitoes in all stages of their life cycle. The best part is that our treatments will also protect your property from fleas and ticks, so your pets will be thanking you as well!
When you partner with us for your mosquito removal, our team of trained mosquito exterminators will:
Examine your property

for breeding sites.

Use family and pet-safe products

and mosquito treatment techniques. 

Achieve desired results

for both grown mosquitoes and larvae.

Provide season-long relief

from March through November. 
Perimeter Pest Control in Griffin, GA
To prevent pests from getting inside your home, our team here at Roots Turf and Ornamental provides a monthly perimeter treatment. This treatment includes a 3 ft barrier up the outside of your home and another 3 ft barrier out from the base of your home to protect your family from common household pests, including:
Spiders
Cockroaches
Centipedes
Wasps
Earwigs
Ants
And more!
Contact Our Team To Get Started!
Additionally, during our detailed inspection of your home, we make notes of every entry point around the home and seal it, to ensure your home is protected.
Our Guarantee
Should pests persist in between scheduled treatments, simply let us know and we'll re-service your home for no additional cost to you. That's our guarantee to you!
Image