Save $25 On The Best Local Lawn Care In Milledgeville
Lawn Care in Milledgeville, GA
Your lawn is one of the first things people notice when they arrive at your home, so it is important that your lawn always be looking its best. With our comprehensive and custom lawn care services, we are sure to cover any and all of your lawn's needs. Our trained technicians start with a full inspection of your lawn to assess its needs, and we work with you to provide your dream results.
Working with us will guarantee you the following:
A free quote on lawn services.
As-needed fertilization treatments according to the current season.
Removing and killing current weeds.
Preventing future weeds.
Treating and diagnosing lawn diseases and other problems.
Free service calls in-between visits.
And more!
Family and Pest Safe Lawn Care
Safety is our number one priority here—which is why when giving you the lawn you desire, every product we use is both family and pet-friendly. Worry not about your family or pets getting into anything, because you have our assurance there will be no harm to them.
Image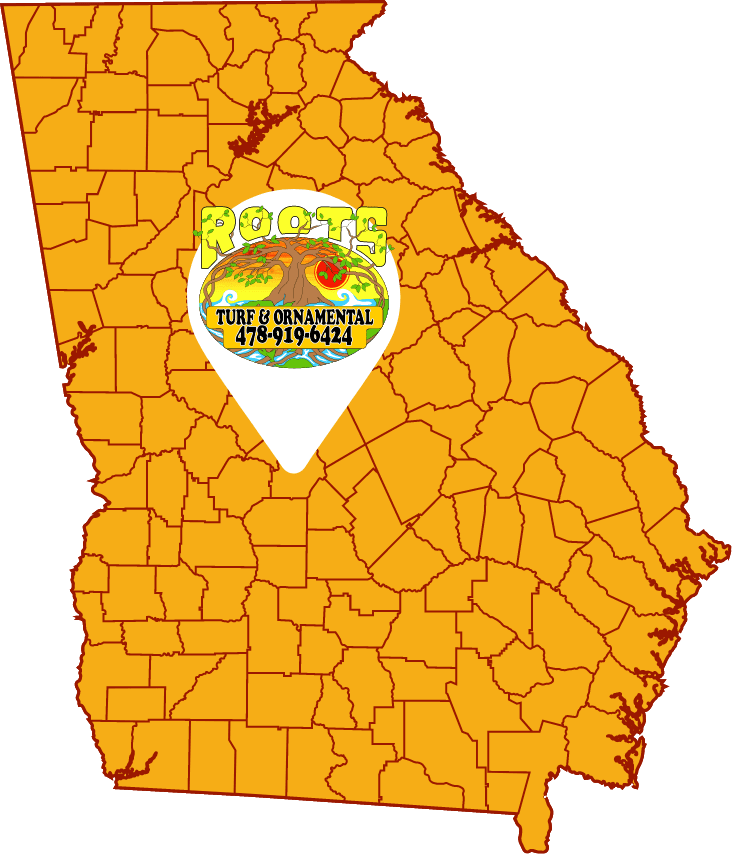 Lawn Aeration in Milledgeville
If your lawn is looking listless and drab despite a top-notch lawn care program, chances are you're dealing with soil compaction and thatch buildup. Both happen naturally and make it more difficult for your grassroots to grow and access oxygen, water, and nutrients. The lawn aeration service offered by Roots Turf and Ornamental loosens the soil and breaks up thatch using a stream of high-pressure liquid to quickly turn your lawn from one that's surviving into one that's thriving.
The benefits of liquid aeration in Milledgeville include:
More effective than traditional core aeration.
Improved absorption of water and fertilizer into the ground.
The ability to aerate over sensitive items in your lawn, such as irrigation heads, sprinkler pipes, utility lines, and electric dog fences.
More robust turf with stronger roots that allow for increased drought, disease, and pest resistance.
Reduced water puddling and runoff.
Grass that is lush and vibrant.
Tree & Shrub Care in Milledgeville
Discover the secret to a beautiful landscape with Roots Turf & Ornamental's elite tree and shrub care service in Milledgeville, GA. Our year-round tree care program is designed to protect your ornamentals from pests, diseases, and harsh environmental conditions.
Here's what you can expect from our tree and shrub care service:
Dormant oil application to protect your plants from overwintering insects.
Disease treatment to protect against powdery mildew and leaf spot.
Fertilization to promote growth, color, and root development.
Protection from pests like mites, scales, aphids, and caterpillars.
Environmentally-friendly tree treatments using EPA-approved products.
Add-on treatment options, like foliar fertilizers, deep root feedings, and Mauget tree injection.
Knowledgeable technicians who are trained to identify and treat common tree diseases in Milledgeville, GA
Invest in your Landscape
At Roots Turf & Ornamental, we understand that your trees and shrubs are an investment. That's why we offer family-friendly treatment without a binding contract, so you can choose the option that's best for you without sacrificing quality of care. Trust us to deliver the ultimate tree and shrub care service that will transform your outdoor living space into a natural paradise.
Mosquito Control in Milledgeville
Don't let mosquitoes ruin your outdoor fun this summer - our family-friendly mosquito control in Milledgeville has got you covered.
Get a free inspection to identify any potential mosquito breeding areas on your property.
Our fogging treatment targets adult mosquitoes, giving you immediate relief from those pesky bugs.
We use EPA-approved liquid sprays that are safe for your family and pets once dry.
For targeted areas, we use larvicides to eliminate mosquito larvae and prevent future infestations.
Provide regular applications from March to November to keep mosquitoes away all season.
Milledgeville's climate and geography create the perfect breeding ground for mosquitoes, making seasonal mosquito control a necessity. So say goodbye to itchy bites and enjoy your yard all season long with our effective mosquito treatment and prevention services!
Perimeter Pest Control Milledgeville
Are pests invading your home? Instead of waiting until critters invade your home, our family-friendly perimeter pest control in Milledgeville is here to save the day!
Our perimeter pest control program consists of monthly spray applications that target cracks and crevices, paired with an inspection to ensure your home is protected.  We help to keep out:
Cockroaches
Spiders
Wasps
Earwigs
Centipedes
And More!
Don't wait—start protecting your home today with our affordable monthly plans starting as low as $9.00 per month!
No Contract Needed
Here at Roots, we know that everyone's schedule is different and that contracts do not always work for you. That is why we provide no-contract lawn care services in Milledgeville. When you don't have to worry about the commitment of a contract, you can focus on the exact services you need, whether that be a one-time treatment or year-round service.
Our Guarantee
Should pests persist in between scheduled treatments, simply let us know and we'll re-service your home for no additional cost to you. That's our guarantee to you!
Image