Same-Day Lawn Services in Milledgeville, GA
Lawn Care in Milledgeville
Your lawn is one of the first things people notice when they arrive at your home, so it is important that your lawn always be looking its best. With our comprehensive and custom lawn care services, we are sure to cover any and all of your lawn's needs. Our trained technicians start with a full inspection of your lawn to assess its needs, and we work with you to provide your dream results.
Working with us will guarantee you the following:
A free quote on lawn services.
As-needed fertilization treatments according to the current season.
Removing and killing current weeds.
Preventing future weeds.
Treating and diagnosing lawn diseases and other problems.
Free service calls in-between visits.
And more!
Family and Pest Safe Lawn Care
Safety is our number one priority here—which is why when giving you the lawn you desire, every product we use is both family and pet-friendly. Worry not about your family or pets getting into anything, because you have our assurance there will be no harm to them.
Image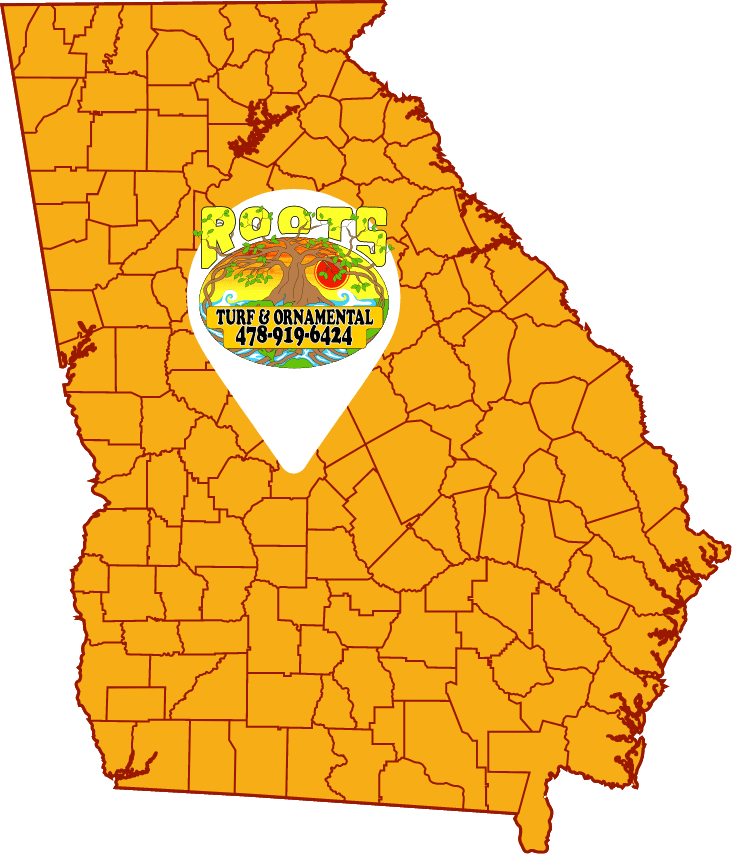 Lawn Aeration in Milledgeville
If your lawn is looking listless and drab despite a top-notch lawn care program, chances are you're dealing with soil compaction and thatch buildup. Both happen naturally and make it more difficult for your grassroots to grow and access oxygen, water, and nutrients. The lawn aeration service offered by Roots Turf and Ornamental loosens the soil and breaks up thatch using a stream of high-pressure liquid to quickly turn your lawn from one that's surviving into one that's thriving.
The benefits of liquid aeration in Milledgeville include:
More effective than traditional core aeration.
Improved absorption of water and fertilizer into the ground.
The ability to aerate over sensitive items in your lawn, such as irrigation heads, sprinkler pipes, utility lines, and electric dog fences.
More robust turf with stronger roots that allow for increased drought, disease, and pest resistance.
Reduced water puddling and runoff.
Grass that is lush and vibrant.
No Contract Needed
Here at Roots, we know that everyone's schedule is different and that contracts do not always work for you. That is why we provide no-contract lawn care services in Milledgeville. When you don't have to worry about the commitment of a contract, you can focus on the exact services you need, whether that be a one-time treatment or year-round service.
Our Guarantee
Should pests persist in between scheduled treatments, simply let us know and we'll re-service your home for no additional cost to you. That's our guarantee to you!
Image